 CIRCLEVILLE TOWN BUSINESSES
American Star Manufacturing, llc
P.O.Box A, Circleville, 84723
(435) 577-2266
American Towing Service
670 S. Hwy 89, Circleville, 84723
(435) 577-2653
(435) 231-1113
Bunkhouse Motel
Great Rates! Open Year Round
291 W. 470 S, Circleville, 84723
(435) 577-2116
Butch Cassidy's Hideout Motel & Cafe
Open 7 Days * Good Food * ATVs Welcome
351 S. Hwy 89, Circleville, 84723
(435) 577-2008
Fax: (435) 577-2067
Circle Valley Anglers
Guided Fishing Trips
390 S. Hwy 89, Circleville, 84723
(435) 577-2168
Circleville American Storage
Circleville, 84723
(435) 577-2653
(435) 231-1113
Circleville Cafe
Open 6 days a week, good food
55 E. Main Street, Circleville, 84723
(435) 577-2288
Circleville Clinic
Open Mondays & Wednesdays
110 S 100 E, Circleville, 84723
(435) 577-2958
Circleville Elementary
Circleville, 84723
(435) 577-2912
Circleville RV Park & Kountry Store
RV-ATV Park
35 S. Hwy 89, Circleville, 84723
(435) 577-2437
Fax: (435) 577-2470
Country Motel
30 W. Main Street, Circleville, 84723
(435) 577-2839
Craig's Auto Repair
670 S. Hwy 89, Circleville, 84723
(435) 577-2653
Dalton Bros. Trucking
RV-ATV Park
100 E. 930 S, Circleville, 84723
(435) 577-2861
Fax: (435) 577-2420
Dalton Hay Co.
100 E. 930 S, Circleville, 84723
(435) 577-2861
Fax: (435) 577-2420
Dalton TV
TV and Small Appliances
155 E. Main Street, Circleville, 84723
(435) 577-2100
Fitness Center
110 E Main Street, Suite A, Circleville, UT, 84723
Forest Creations
P.O.Box 87, Circleville, 84723
(435) 577-2377
Heidi's Hair Garage
Circleville, 84723
(435) 577-2127
Joe Dalton Auto Body
325 W. 470 S, Circleville, 84723
(435) 577-2442
Lott's Better Service
General Contractor
Circleville, 84723
(435) 577-2167
(435) 616-2617
Mad Hatter Gifts
Main Street, Circleville, UT
(435) 577-2525
Mike's Arcade
Sales, Repairs and Custom Cabinet Manufacturing
60 W. Main Street, Circleville, 84723
(435) 577-2258
Morgan Ranches, LLC
Circleville, UT, 84723
(435) 577-2812
Rowley's
Rain Gutters, Vinyl siding, Trenching
Circleville, 84723
(435) 673-6671
(435) 680-6671
Stans General Merc & Piute Trail RV Park
85 E. Main Street, Circleville, 84723
(435) 577-2888
State Bank of Southern Utah
125 W. Main Street, Circleville, 84723
(435) 577-2827
Fax: (435) 577-2921
Steve's Service
20 W. Main Street, Circleville, 84723
(435) 577-2928
RECREATIONAL ACTIVITIES AROUND CIRCLEVILLE
Camping
There's nothing quite like sleeping under Utah's stars.
Circleville's Birch Creek Campground is the only public campground located directly on the Paiute ATV Trail and one of the best kept secrets. Pitch your tent at one of the many camp sites, or park your camper at Big Mike's Campground. The Park features primitive camp sites and bathrooms, fire pits and a large pavilion great for large groups, as well as creek side camping in a wooded setting within the beautiful Fishlake National Forest.
If a more refined camping is your style, Circleville RV Park offers a safe clean family oriented campground in a tree lined park with RV hook-ups to support even the Mega RV Mansions. For further information go to Circleville RV Park.
When the temperature starts to climb and the dry winds blow, there is an option that combines adventure with cool, refreshing breezes – head to the high country were the mountains are magical. With their snow-capped peaks, sheer rock faces, and dramatic ridgelines, mountains call us in, begging to be explored. Mountains offer much more than pretty scenery. They have a spiritual quality that is undeniable, bringing people closer to the heavens and lifting their spirits. This year, why not head to where the wild things are and spend some time camping in the mountains and try something new — horseback riding, fishing, hiking, ATV riding, mountain biking, and rock climbing. Some of the most fascinating animals makes their homes in the mountains – watch for foxes, deer, elk, bears, owls, eagles, mountain goats and mountain lions, to name a few.
This season, why not take a camping trip to the top of the world? From hillsides full of wildflowers to amazing views of peaks and ridgelines, mountains truly have it all. So warm up your sense of adventure and see what mountain camping is all about. There are plenty of activities for the whole family. It is a great opportunity to get back in touch with nature and each other.
Article contributed by Circle Valley Anglers
Fishing
The Sevier River flows though Circleville and is famous for German Brown and Rainbow Trout fishing. Just north of Circle Valley is the Piute State Park. Ice fishing in the winter, and both the Piute and Otter Creek State Park are near by.
Fishing for Trout and the Occasional Small Mouth Bass
The meandering brooks in our forests, a peaceful river thru the valley, the tranquil streams up in the mountains and high altitude reservoirs make our area a magical place for fishermen and other outdoor enthusiasts.
Fishing for trout in moving water is a completely different experience than still water fishing (there is a mystical reverence in the art). In moving water you must think like a fish. It is the art, science and cunning of the hunt that draws us. The stealth of your approach, the presentation, the skill that controls how your chosen fly or lure drifts by that feeding trout, are all aspects that contribute to your success in fishing these waters.
We relish the hunt, but our better nature understands the need to protect what we cherish. Fishing lets us do both. The basic techniques needed to fish moving waters can be learned in only a few minutes but practice can lead to a life time of enjoyment.
It's time you come and explore this tremendous resource and find that true "Pure Utah Fishing Experience" of a lifetime. Start your adventure by checking Circle Valley Anglers' website.
Fremont ATV Trail
The Fremont ATV Trail travels through Southwestern Utah's Dixie National Forest, offering cool forested rides, red rock formations, abundant wildlife, and sweeping views from the high plateaus. Vegetation varies with the terrain, ranging from sage brush to ponderosa pine and aspens.
The Freemont ATV Trial travels over 65 miles between Circleville and Tropic Reservoir, linking the Paiute ATV Trail in Circleville, and the Paunsaugunt ATV Trail near Bryce Canyon. Access to the Bryce Canyon area and the Ruby's Inn is a short, easy ride from the Fremont ATV Trail through Daves Hollow. Ruby's Inn offers all services including gasoline, lodging, food and some mechanical repairs and services. ATVs, OHVs and UTVs are not permitted in the nearby Bryce Canyon National Park.
The Northern end of the Fremont ATV Trail starts in Circleville. The marked trailhead is located at 470 South at 100 East. When starting out on the trail, head straight south across Circle Valley, then start climbing through Dixie National Forest. The route will drop down at the bottom of Smith Canyon, head south, then will connect with Sanford Canyon and climb eastward again. Stay on the main route when you get to Limekiln Canyon turnoff. The area between Limekiln Canyon, Sanford and Smith Canyons is rugged and remote. Continue on the main route. A junction will take you on side trips to Peterson Point and to Casto Canyon. To stay on the Fremont ATV Trail continue southeast. DO NOT take Corral Hollow or Cabin Hollow, as these trails are not designed for ATVs. Instead, follow Berry Springs Creek Road and Mud Spring Bench to Tom Best Springs Road, then head south.
At Scenic Byway 12, cross the main paved highway to the trailhead on the south side and continue on the Fremont ATV Trail to a junction. Head east (1815) to the junction of 091 where you can go either:
Ruby's Inn: go left on 091 to East Fork Road, then south to the Daves Hollow turnoff. From there, follow the well marked signs to Ruby's Inn.
Tropic Reservoir: turn right at the 091 junction and head south, follow the signs to Tropic Reservoir.
Several side routes along the Fremont ATV Trail are easy and scenic rides. Casto Canyon has Bryce-like formations and easy trails. Limekiln Canyon also offers unusual scenery and is popular with the locals. Or you can combine the two canyons to make a looped route. Many Trails are multi-use trails, so please be aware of horses, hikers, mountain bikes, and other vehicles. Please respect the rules, stay on the designated ATV routes, and have fun.
Services are available at Circleville, Panguitch, and Ruby's Inn.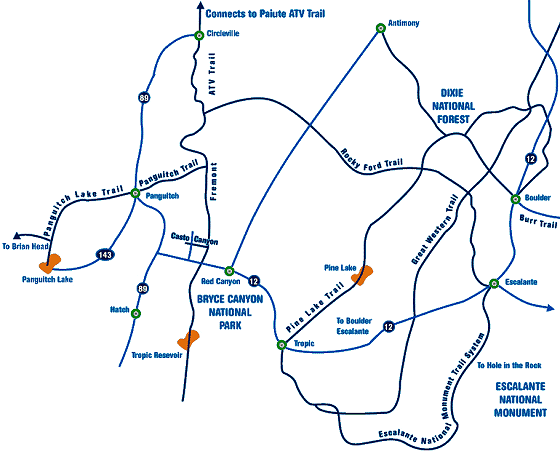 The Paiute ATV Trail
The World's Premier ATV Trail
Utah's Paiute Trail System was born in the late 1980s. Facing the closure of the existing off-road routes in the Fishlake National Forest and the surrounding communities near Interstate 70, the Piute County Commission and the U.S. Forest Service saw the potential for a public trail system that would not only allow hunters and off-roaders the use of the forest, but also link the communities in and near the forest.
The Paiute Trail proper spans 278 miles, about 80 percent of which are dirt roads, and 20 percent trail sections. In addition to the main Paiute Trail loop, which passes though four communities, four counties and three mountain ranges, an additional 550 miles of side trails access another 12 communities. In each community, ATV riders can go into town and buy gas and food, make repairs or get a hotel room before heading back out on the trail. Even better, the Paiute system adjoins the Great Western Trail, a sister system to the east, and the Fremont Trail to the south to bringing the grand total to more than 1500 miles of trails.
Trails vary in skill level from beginner to advanced, and the system spans a low point of 5230 feet to a high point of more than 11,000 feet. There's something for everyone: tight, narrow trails through dry creek beds, rock crawling, steep climbs through juniper and pin forests, aspen meadows and spectacular views from the ridge top trails. Because 80 percent of the Paiute Trail is dirt roads, it's a great place for beginners to explore. It's also a very popular area for hunters and sightseers.